Aside from lavish feasts of food and chocolate (mainly chocolate), Easter is a time for families to unwind a little. A couple of bank holidays, end of term at schools across the UK, the time for fun is certainly now. But what if you're a little stuck for things to do over the weekend? How will I go back into work next week with nothing to show from my weekend of 'family fun'?
Well worry not, because here at LetsLaze we've got you covered. Obviously!
So why not try some of these on for size:
Where: Nationwide
When: 14th-17th April
How much: £2+, plus National Trust admission charges apply.
Ah, the traditional Cadbury's egg hunt. In case you haven't been keeping up with the news these last couple of weeks, you'll have seen that there's been quite a lot of fuss in the house of commons (seriously) about Cadbury's dropping the word 'easter' from their promotional campaign this year. Firstly, that's incorrect (see below promotional pic). Secondly, wouldn't you think they'd have more pressing matters to be dealing with – you know, what with the whole Brexit thing? Never mind.
Anyway, Cadbury's are running over 300 hunts this year in various locations across the country. Who can resist a chocolate hunt?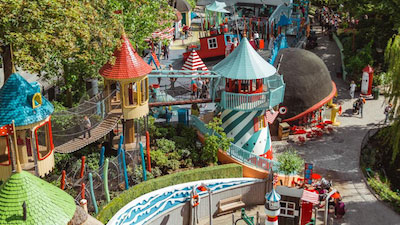 Where: Various cities across Europe
When: Throughout Easter weekend
How much: From £19.99 per person
For the family of travellers, Easter represents a nice opportunity for a long weekend away. Websites like HolidayPirates can source deals to a variety of hotspots for a fraction of the usual price. Keep a keen eye on it though as these deals often sell quite quickly.
As far as family breaks go, we'd recommend Copenhagen. As you can see from the above photo there's plenty for the kids to do, including the two oldest amusement parks in the world!

Where: Participating ODEON cinemas across the UK
When: All year long
How much: Standard child's ticket prices apply
For families working on a smaller budget (or ones who don't fancy an all-out holiday), ODEON are offering a fantastic deal on cinema tickets. As it says on their site, simply select 'family ticket' when booking your film and everybody (including adults) pay kids prices, it's that simple!
We think this lot should be enough to keep you going for the weekend, no? Wherever you decide to go, make sure to take an inflatable sofa on your adventures and take plenty of snaps!